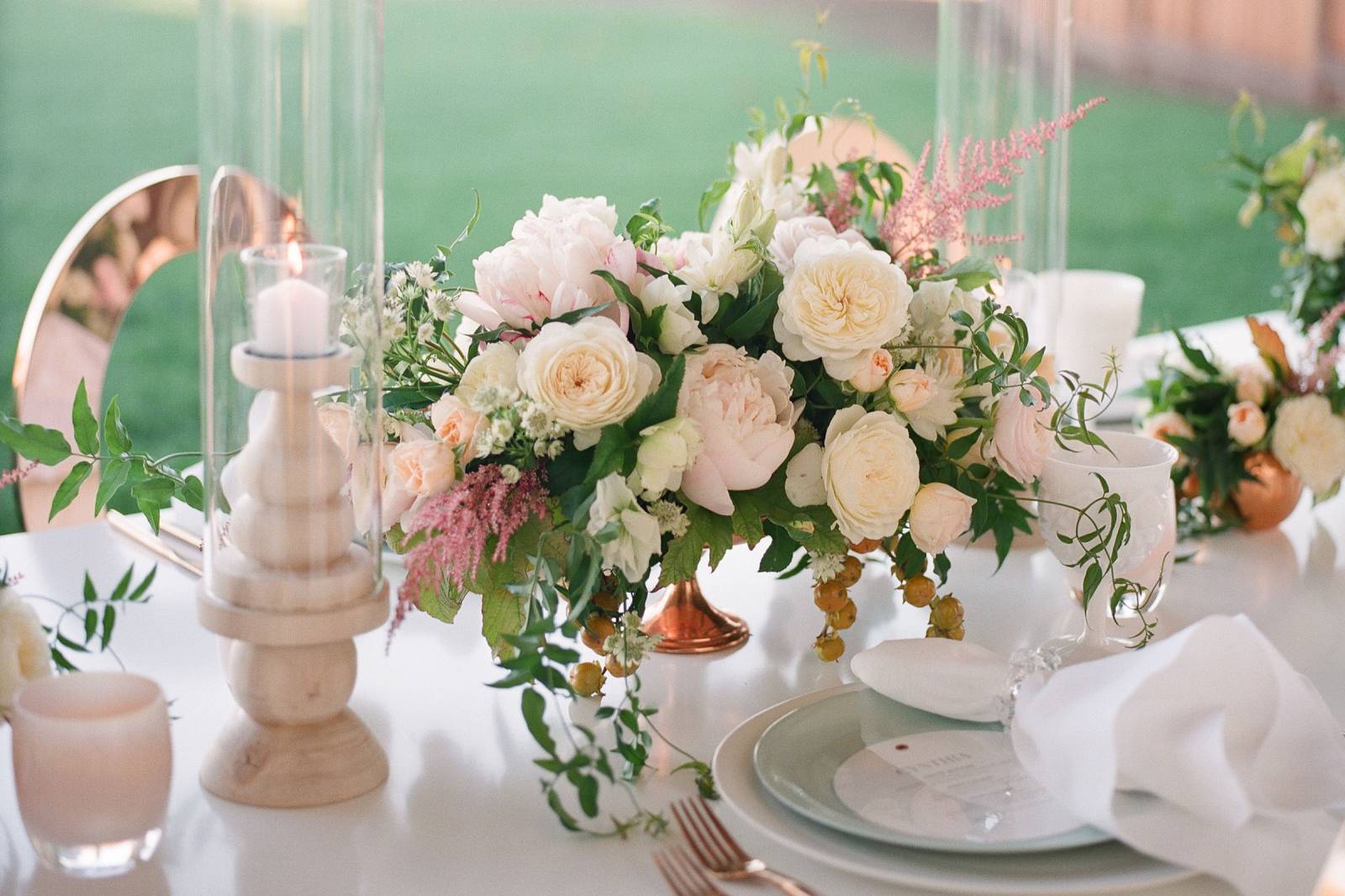 When interviewing a floral designer, look for their use of color, texture, and overall flair. Share your ideas and your vision, and be open to their suggestions. Ask about the rentals they provide, as many have large prop closets filled with arches, chuppahs, and vases of every size, shape and style.
Once you've selected your designer, the creative process begins. Provide the pertinent details at the get-go: your wedding date, time of day, style of wedding (formal or informal), ceremony and reception locations and a general idea of your budget.
BE PREPARED How do you express what you want when you don't know the names for the flowers you like? Pictures, pictures, pictures. Before your initial consultation be sure visit the image gallery. The more examples you show your designer the easier it will be for them to meet your expectations.
SEASONAL CONSIDERATIONS For everything there is a season and flowers are no exception. Flowers in bloom during and around the months of your wedding will be more available and less costly than out-of-season selections. Holidays are also a factor. Ever notice how red roses cost more around Valentine's Day? Tulips and hyacinths are in high demand during Easter. Christmas creates a premium for poinsettias and holly. Should you choose these flowers around such seasons, factor this into your budget
TIME-OF-DAY Your florals should last throughout the day. Some flowers hold up beautifully in the sun; others are better suited for indoors. Let your designer know the time and month your wedding is taking place so they can advise you on what flowers remain perky and perfect under the palm trees, and which wilt before the wedding reception.
CEREMONY FLOWERS Repurpose ceremony flowers for your reception. Ceremony arrangements are ideal for buffet tables, and aisle flowers can be used to decorate powder rooms, staircases and small hallway tables. Using these items twice helps maximize your budget.
RECEPTION FLOWERS The venue will greatly influence your floral design needs. High ceilings call for bolder, more dramatic arrangements, while an outdoor venue can be accented with rustic, potted and flowering blooms.
Not to be overlooked are greenery and plants. Ficus trees wrapped with twinkling lights and magnificent potted palms add dimension to all venues. If the budget allows, consider adding a few more finishing touches. Sprinkle petals on serving trays and weave garlands along buffet stations.
Make it you While the very idea of a ceremony and reception may seem quite traditional, yours can be completely unique. Weave your interests, hobbies, culture and passions into the tapestry of your celebration. And most importantly, don't sweat the small stuff. Things happen and plans change.