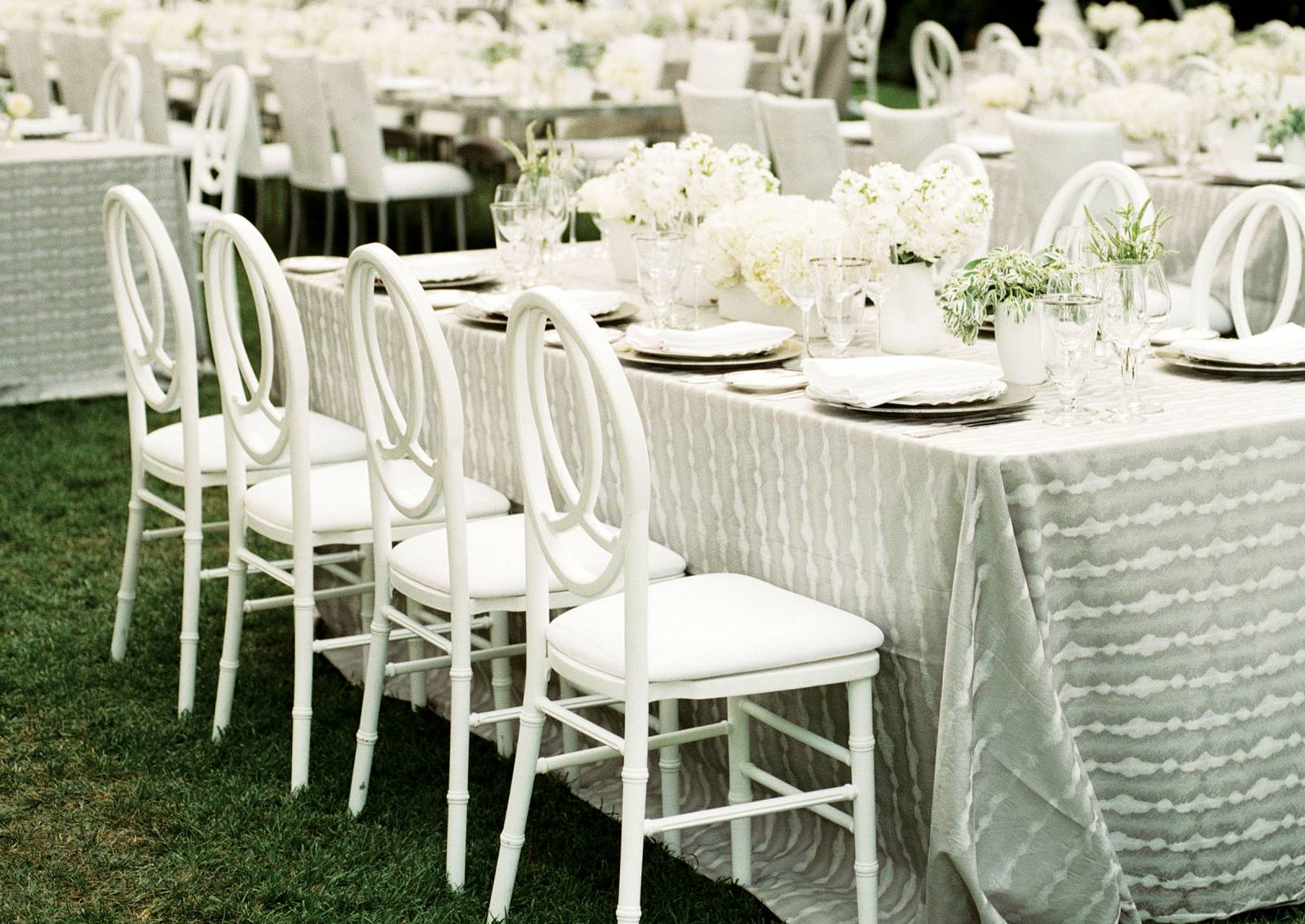 Event rentals cover a variety of items, such as: tableware, linens, chair covers, tables and chairs, tents, dance floors, candelabras, fountains, plants, props, lounge furniture, vintage furniture, theme decor and more. Before contacting a rental company, have the following information available:
Your event date, time and location.
What items will be provided by the caterer: glass, flatware, china, buffet linens, etc.
What will be provided by the facility: tables, chairs, bar, linens, arbor, etc.
Total number of guests attending, including the bride, groom and wedding party.
Number of wedding vendors being seated.
A tentative floor plan.
Table and chairs for your beverage service and disc jockey.
Food serving style. Buffet stations will need linens for each table and possibly props or decor.
CEREMONY RENTALS A great deal of focus is placed on the decor for the reception. Not to be overlooked are the elements that literally set the stage for the wedding ceremony. Arbors, columns and pillars, topiaries, candelabras and chuppahs are props and structures readily available through most rental companies.
LINENS Before you decide on colors and theme, you owe it to yourself to visit a rental or linen company. The styles, texture, fabrics, colors and options available are staggering. A single linen can launch a flurry of ideas and imagination. When tallying the number of linens needed, don't forget the DJ table, back bar, buffet tables and other surfaces that may need a little coverage.
TABLES & CHAIRS In determining the number of tables and chairs needed, confirm possible extras: chairs for the ceremony, tables for the back bar, serving stations, DJ, cake and gifts. If your reception site offers an outdoor area, rent a few tall cocktail tables for guests who'll be slipping outside to smoke or get a breath of fresh air. If there's the chance of extreme heat or rain, reserve market umbrellas to go over the tables. These extras will also affect your linen and floral orders.
CHAIRS + COVERS Old and worn chairs can be an unsightly distraction from an otherwise elegant affair. Easy options for the "bad chair" dilemma are chair covers and chair rentals. Most rental companies show images of their inventory online, so be sure to check-out their websites.
DELIVERY Find out in advance what the delivery, set-up, pick-up and payment policies are. Coordinate with the facility manager to ensure the location will be open when the rental company delivers your order and that someone will be there to direct where items should go. Arrange for someone to monitor your rental items at the end of the event, paying particular attention to gathering, counting and bagging the linens for return.